Hip-Hop Lollipop
$11.95
Mama says, "Lollipop, stop! Stop!
Jumping snapping nonstop."
Arms and shoulders pop 'n' lock.
Lollie's dancing hip-hop.
Watch as Lollipop grooves her way through her bedtime routine, brushing her teeth to the beat and shimmying into pjs. She sways along with her sister, her parents, and even some enthusiastic pets until, finally, Lollie closes her eyes and dances through her dreams. Susan Montanari and Caldecott Honor winner Brian Pinkney offer a playful bedtime read-aloud that perfectly captures the joy of music, movement, and family. Ages 4-8 yrs.
Production Description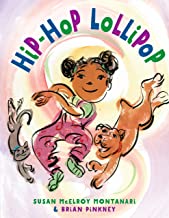 Only logged in customers who have purchased this product may leave a review.